Conservative Hideout
Sep 02
Being American and Being Obama
As we approach the election, Americans are faced with a choice more fundamental than in past elections.  The choice this year is not just about policy.  The choice this year is about who will embrace America in order to save America.
After watching the new movie by Dinesh D'Souza: 2016 Obama's America, I came to the conclusion that Barack Obama is missing certain qualities critical to the job.
I concluded that Barack Obama is not American.
Here's what I mean…
I couldn't help but compare my version of being an American with what I now consider to be Obama's.
As I write this, my big brown hound dog is asleep at my feet. My expectant wife is laying on the couch studying a list of baby names. My mind turned to this blog after I finished an important proposal for a prospective client. I just finished my work day, and it's 11:00 at night.
Running a small business is hard.
And through the course of my life beginning long before this night, I have had 40 years of being American.
Quintessentially American, like the vast majority of others in this country - natural born and immigrant alike. Heck, I'm only a generation away from being an immigrant myself.
My earliest memories, I suppose, are from when I was about 3. I remember my Mom wrapping Christmas presents on the living room floor. I remember getting a pair of six shooters and a Lone Ranger doll with a plastic Silver that year. I think I also got the matching Tonto doll and his trusted Paint horse, Scout.
"Hau."
I remember being about five or six years old, when a favorite pastime was sliding down the slope of my front lawn with Danny, the kid who lived across the street. During that same time period I remember riding a large spring-loaded horse, while my Grampa played the William Tell Overture on an old record player.
This was about the time of our bicentennial. I remember a flag with a "76" on it. I also remember telling my little friends Danny and Kristen, "My parents are voting for Ford," though I didn't really know what that meant.
I remember the older, high school boys knocking on the back door to our house to ask Mom if they could play football in our backyard - she always said yes.
We moved and lived in a neighborhood with lots of kids. My Dad - now "Papou" - still lives in that house. Growing up, life was one day after another of kickball in the cal-du-sac, building tree forts in the woods with Billy, Jean-Luc, Pat, Brian, the "other" Billy, and riding our BMX bikes.
We spent endless days down at the creek catching frogs and crayfish and building dams. Other days were spent fishing at Fox Lake (we snuck on to the private land).
One day when I was about 11, my buddy brought over a hack saw, and we cut the lock on my dad's foot locker from when he was in the Army some 30 years prior. We got hold of his fatigues and belts and played war in the woods for the next two weeks.
In sixth grade I remember having a "boy-girl" party. Looking back it was so funny. We played spin-the-bottle. I think we wore out the record player with songs from Chicago, John Cougar and Michael Jackson.
Summers were spent at the pool, on the swim team. I remember standing there in my suit, hand over my heart, as the National Anthem played over a crackly PA system. To this day, I can't listen to the Anthem without getting choked up. My Mom told me, "Always win with grace and lose with grace," and made sure I always shook the hand of the kid in the lane next to me, win or lose.
Thanksgiving was usually spent at my Uncle's house, just across the street from Valley Forge, PA. After watching Aunt Peggy and Aunt Rene cook all morning, the kids got the small table. We all held hands, while one of the grown-ups said grace. At the time it seemed like a pain.
After dinner, we walked the fields of Valley Forge.
And so it was… throughout my childhood, I learned about my family:
- How my Papou - a greek immigrant - parlayed a job in a local store into owning that store.
- About how my uncles fought the Nazi's in Europe and the Japanese in the Pacific.
- My Dad telling me about how his mother - my Nana - would from time to time feed dinner to out-of-work men (he called them "hobos"). They ate their plate of food on the back stoop.
- One uncle built a company that eventually turned him into a millionaire.
- How my Mom lived in a "3 room bungalow" with her 5 brothers and sisters when she was a kid.
My American heritage goes on and on…
Off-Summer season was school, fitting in, getting in some trouble here and there and playing outside. I remember how big a deal it was to get a "Members Only" jacket and two years later, getting a "Levi's Jean Jacket."
My Mom taught me how to drive. At 13 years old she let me drive the old Lincoln - a 1966 baby blue Continental - to the other end of the neighborhood. My first car ended up being Mom's worn out 1979 Ford Country Squire Station Wagon, complete with woody sides.
High School was fun. Maybe too much fun. I did a one year stint at Bishop O'Connell High in order to get my grades up, so that I could get into college. My Mom and Dad always supported me, no matter what I got into. I knew when I screwed up, but I also had unconditional love, and I knew that too.
I've got a shoebox in my closet full of the many letters Mom wrote me during college. I wish I knew then what I know now about what a parent really thinks and feels.
Sales jobs took me through my first few years out of college. I was in the Internet business and life was good. In 2000-2001 I got laid off 3 times. I kept right on going. In 2009 I got laid off again.
That was the last time I will ever get laid off.
After losing my job that July day in 2009, I went for a jog. Lumbering down the Washington & Old Dominion trail in Vienna, VA, I made up my mind: I was starting my own business.
And I did just that.
The last three years have been TOUGH. With a new wife and two babies at home, launching a business from scratch was a risky decision.
But it is part of my DNA.
Figuring out what products to sell, how to sell them, writing my own contracts, finding outsource providers, servicing clients, getting paid…
Every month, bills come due and I MUST produce.
This year, I grouped up with another company and pooled our resources to form a larger company. We're still small and there are only 3 partners, but we're doing it.
We're really doing it. We're growing.
We talk a lot about how to hire another sales person, an account manager, how to handle the new customers, how to scale, how we're going to get paid more, how we can all become hugely successful and do it with the least risk. For three years, I have been working more hours and for much less than I could earn in the corporate world.
My partner has taken a line of credit that he personally collateralized to help manage the company cash flow.
All this to say, this is an American life.
I was not handed anything per se. My Mom was always there for my three sisters and me. My Dad worked tirelessly to provide for us. They taught us to work, to strive for achievement, to be good people, how to love one another. They taught us the power of self-reliance and the power of family.
Now each of us is teaching our children the same lessons.
We are Americans.
This all flashes through my mind in a patriotic blur. Then I consider the life experiences of Barack Obama and what his American experience was and is, and what his parents taught him.
Obama grew up with a communist mother and experienced childhood in Indonesia. He was always surrounded by communists, marxists and radicals as his mentors, teachers and role models, all at the bidding of his Mother. And of course the unseen force of his revolutionary father guiding his ideals and principles, which were all the exact opposite of the ideals and principles I was brought up with.
The documentary 2016 crystallized what it really means to be American, at least as it relates to considering our current President.
Being American cannot be described in a sentence about the Constitution or the founding fathers, or even about liberty. Being American is a collection of life experiences that are unique. Experiences that are only possible when the government exists solely to protect the freedoms granted to us by God.
This is what makes us exceptional.
Beyond the $1.5 trillion in deficits, beyond the $16 trillion debt, beyond the regulatory over-reach, beyond the 8.3% unemployment, beyond the $3.80 gas…
Beyond all of those failures, I am against Barack Obama because, regardless of his citizenship, I don't consider him to be American in a certain sense. I don't believe he has the life experiences and consequently the ideals and philosophies that make one distinctly American.
My opinion is that Obama's life experiences are not just foreign to the American ideal, but are anathema to the ideal.
Think about your childhood. If you are a new immigrant, think about the reason you came to America. Think about why your parents or grandparents came to America. Think about your experiences growing up. Were you the protege of a communist radical? Did your parents obsess about colonialism and how America was robbing the rest of the world?
Is that what you learned as a child?
So as I sit here and look down at my big dumb dog and while I quietly admire my wife, I realize that my collection of life experiences, thoughts and ideas are what make me American. The freedom I have to conceive, develop and build my business makes me American.
And I realize that my collection of experiences is similar to most Americans.
Whether you grew up on a city block in Brooklyn, NY, or a small town in the midwest, or the suburbs of Washington DC, these experiences are similar. They are what bind us. They are also impossible to have without our brand of freedom.
Then I think about Barack Obama…
And I realize he does not share these experiences.
More than that, these experiences are unseemly to Obama. Because to Obama, all that I have, I have because my family stole it from some poorer family. And as Americans, we have these experiences only at the expense of others across the globe.
Not only does Barack Obama not share my American experience, but he holds it in disdain.
Forget about "being" American. Obama doesn't know what it means to be American.
Teacher Caught on Video Assaulting a Student: Get's to His Job
What happens when a teacher is caught on video assaulting a student?  He gets to keep his job!  Here is the video…
Here is the information from the video…
The Pierce County Sheriff's Department said Wednesday it is investigating a complaint of an alleged bullying incident, caught on video, involving a student at Kopachuk Middle School in Gig Harbor in February.

The department said it was contacted July 30 by a lawyer representing the parents of the student who was concerned that her clients' 13-year-old son had been the victim of a bullying incident and that "the incident appeared to be abuse."
Might it be that the teacher's union is so powerful, that this man cannot be fired?  I don't know of many places where you can be charged with teaching and protecting children, and then abuse children, and still not be fired.  But, I guess that is par for the course anymore.
Aug 30
If Teachers Were Paid Minimum Wage to Babysit Students They Would Make $189K/year?
Some people claim that teachers' are overpaid- they argue that teachers' only work 9 or 10 months a year and basically most teachers simply babysit kids today. And for that they should be paid a minimum wage.
That's right- people claim that we should pay teachers $7.50 (roughly the minimum wage in most states) an hour and only pay them for the hours they worked (not any of that silly planning time or any time they spend before or after school). That would be $48.75 a day (7:45 to 3:00 PM with 45 min. off for lunch and plan— that equals 6 1/2 hours).
So, in summary each parent should pay $48.75 a day for these teachers to baby-sit their children. Teachers only work about 180 days a year, so that works out to $8775 each year in childcare (per kid) to have teachers babysit your children. That's a little high for daycare, but is pretty darn close to what some of us pay for our own kids for childcare.
But hold on- let's look at this from the teacher's perspective. The average classroom size in America is 23 students. So that means to babysit these students each day the teacher brings in $48.75 x 23 = $1052 a day. If the teacher brings in $1052/day and works 180 days a year, this teacher brings in $189,360.
The average teacher's salary is about $55,000 though. That's about $134K less than expected.
Many in the public sector and many union people would argue that the failure here is that people are not paying enough for education- they want higher taxes, more money sent into education, more government control over the process, and more centralized control over education in general coming from Washington DC. They suggest that taxes should be levied on businesses, individuals, homes, and goods that we buy to increase the amount of money that is churned into the education establishment and that if this happened than teachers would be paid more. Probably a bit of the wealth that is extracted from free citizens would in fact find its way to teachers- but this whole argument is missing an important idea- why is so much of parents' money not finding its way into the classroom now?
The problem is not that government isn't involved enough here- the problem is that government is too involved in education today. Teachers are being robbed of the wealth that should flow to them for the services that they provide- $134K per year per teacher is being sucked away by non-classroom teachers such as union employees, government bureaucrats, and other useless waste on the system. Oh, some of that money obviously goes to cover administration, those children who free-load because their parents can't afford to pay, the building costs, bus drivers, and the cost of technology and textbooks- but I doubt that those costs would eat away all of that $134 per teacher per year.
The problem is that education is the government is interfering with the market for supply and demand for education and is running horribly inefficiently. To solve these problems, we need to strengthen the connection between parents paying for education (through local property taxes or direct payments to schools) and the connection between teachers being paid for providing education to these children (without having that money cycle through government bureaucrats all around the United States).
I'm sure my math on this subject is far off, and of course teachers provide much greater service than babysitting, but maybe I'm on to something here- maybe government is not the solution to the problem in education, maybe government is the problem?
Original Post:  A Conservative Teacher
Making Use of Distraction is the MO of the Left
Big time criminals often use the "modus operandi" (MO) of creating a disturbance in one part of a city to attract the police, while they are carrying out a crime in another part of the city. Because politicians, especially Democrats, are not much different from criminals, they also use distraction as their MO. And, what greater distraction could they wish for than a hotly contested Presidential election.  While everyone is  focused on the election, they are busy with their criminal acts.
The first item on my hit parade may noy be truly criminal but it should be. Look at this excerpt from a recent Questions and Observation post.
Representatives from the International Monetary Fund, the European Central Bank and the European Commission are due to arrive in Athens next month to assess Greece's reform efforts.

They are expected to report in time for an 8 October meeting of eurozone finance ministers which will decide on whether to disburse Greece's next €31bn aid tranche, promised under the terms of the bailout for the country.

American officials are understood to be worried that if they decide Greece has not done enough to meet its deficit targets and withhold the money, it would automatically trigger Greece's exit from the eurozone weeks before the Presidential election on 6 November.

Oh my … election.  Hey Europe, this is about me!  Suck it up and hold off doing anything until after I win!
The Euro Zone has an  extreme crisis on their hands  that if not handled with care and forethought their entire financial system could come undone. But, our President thinks they should put his reelection hopes ahead of their concerns. Maybe not criminal but certainly shows the psychopathic arrogance of Barack Obama. You didn't hear about this from the MSM, did you?
Okay, let's move on to something  that is unquestionably criminal.
From this American Thinker article quoting from The Hill we learn
The Federal Communications Commission is eyeing a proposal to tax broadband Internet service.
Here are the slimy details. For some time now on your phone bill there is a charge called The Universal Service Fund, which is one of those "fairness" programs to make sure everyone has access to phone service. Well, some time ago the FCC without authorization from Congress decided it was only "fair" that everyone should also have access to wide-band internet service. So, they just diverted funds from the Universal Service Fund  to a new fund they call the Connect America Fund. But, the FCC ran into a problem. You see, people began using e-mail more and long distance calls less and the fund they were robbing from began to dry up. So, of course, the only solution is to tax broad-band internet service.  And wouldn't you know, the big internet service companies think this is a great idea. Let the stupid taxpayers foot the bill for expanding the needed infrastructure instead of them. I am pretty sure that Congress passed a law in or about 1999 to prohibit this but I can not find a reference source. However, it doesn't matter to the Obama administration. To them, laws are just minor inconveniences that can be ignored.
And, now for Number One on my hit parade,
Is there anyone in America, who is not brain-dead, that doesn't recall what happened in 2008? Of course, everyone remembers the Sub-prime Mortgage Bubble that burst throwing America into the worse recession since the Great Depression. A bubble that was fomented by Democrats starting with the Carter administration. They pressured mortgage lenders to lower their lending standards  such that people who couldn't afford homes could buy them anyway. All in the name of "fairness", of course. America is still suffering from the aftermath of this Democrat fiasco. It is reasonable then to believe that no one in their right mind would want to go there again. Everyone except Elizabeth "Pocahontas" Warren, that is. You know her. She is the one that taught Barack Obama "You didn't build that…".  This must read article from American Thinker has the details.
…that Elizabeth Warren of the Consumer Finance Protection  Bureau, created by Dodd-Frank, has announced that the CFPB is adopting a  20 page "Policy Statement of Discrimination in Lending".

The policy  statement's position is that to deny a loan on the grounds that the  applicant can't repay the money is discrimination if the applicant is black or Hispanic.
What could I possibly say about this that isn't patently obvious. Ms. Warren is not only insane; she is a criminal.
So, while we are distracted by what should concern us most, the criminals; aka Democrats, are busy doing their best to destroy this country.
Well, that's what I'm thinking. What are your thoughts?
Original Post:  Conservatives on Fire
Aug 29
Barack Obama and the Chamberpot of Secrets
Obama's 2nd-term Assault On U.S. Military

If these progressive groups have their way, U.S. armed forces will be reduced to a social work-style organization designed to combat "global warming," fight global poverty, remedy "injustice," bolster the United Nations and increase "peacekeeping" forces worldwide. The massive, second-term slashes to the military budget are to be used, shockingly, to invest in a defense posture based on "sustainable energy" and fighting worldwide climate change. There is also a plan to wrest control of the military budget from Congress.
***
Stuff that should have been on "60 Minutes" but wasn't:
See more at The Vetting: Obama, Radical Islam and the Soros Connection
***
This explains a lot:
The PJ Tatler has obtained documents from the Justice Department detailing efforts to recruit attorneys and staff who are dwarfs or who have "psychiatric disabilities" or "severe intellectual disabilities." … This DOJ policy does not merely involve prohibitions against discrimination, but rather the documents reveal deliberate recruitment efforts to hire as attorneys and staff for the Department of Justice people suffering from psychiatric disorders and intellectual disabilities. Moreover, applicants can "self-identify" their disability by means of the "Standard Form 256, Self Identification Disability."

Those with "targeted disabilities" may be hired through a "non-competitive" appointment. That means they don't have to endure the regular civil service competition among applicants, but can be plucked from the stack of resumes and hired immediately instead.

According to the documents, those with these "targeted disabilities" may be hired "before the position is advertised" and even "before the position's closing date." Moreover, lawyers with psychiatric disabilities and "severe intellectual" disabilities receive a waiver from the requirement that a new DOJ employee have practiced law for one year before being hired. (The PJ Tatler » Holder Justice Department Recruits Dwarfs, Schizophrenics, and the 'Intellectually Disabled')
Yes, indeed. What this country needs to administer 'justice' are psycho attorneys with severe intellectual disabilities and no legal experience to bolster the hoards of left-wing Bolshevik barristers already in place at the DOJ.  Wait a minute … isn't that how we got Holder?
***
The first term hasn't exactly been a hard day's night for Barry — hell, it's not even been a hard day's day.  No wonder he's the undisputed champion of the Welfare State:
From his earliest days as an adult, Barack Obama has shown a marked aversion to…well…work. (More evidence of Obama's poor work ethic)

***

Valerie Jarrett Tells Obama – Sleep In And Then Take The Rest Of The Day Off…

Barack Obama's daily schedule is often rather light on the actual work of being president and heavy on campaigning or entertaining with celebrities, but today's schedule really brings home the reality of the Man Calling Himself Obama – the guy is clearly simply a mouthpiece for the true powers who built the Obama throne…

Obama Schedule – Thursday, August 23, 2012

12:05 pm || Receives the Presidential Daily Briefing

All times Eastern
Par for the course, of course.  Here's the presidential 'work' month from last May:
 During the month of May [2011], which included 21 working days, President Obama claims he worked about 92 hours (91.95 to be exact). That's according to the White House schedule, posted on the whitehouse.gov Website. That equates to an exhausting 4.4 hours per day. Excluding his grueling G8 summit travels during the week of May 23 (when he was forced to endure eight hour work days!), Mr. Obama worked an average of 3.25 hours per day when at the White House in May.
… and on the seventh day, he rested. A hundred rounds of golf can do that to a man.  But Obama is not just any man.  As Dan Greenfield says:
[…] The rule of thumb is that the more incompetent the man at the top is, the more of a buffoon the man just below him needs to be to make him look good … No halfway responsible man would have deliberately chosen an idiot as his potential replacement. But an administration that has done the things to America that this one has done is not in any way responsible.
Related articles
Original Post:  Be Sure That You're RIGHT, Then Go Ahead
Regionalism (Agenda 21) and Governor Chris Christie
Regionalism is the concept that the suburbs, through their taxes, should support the costs of their nearby city core. It comes straight out of the UN Agenda 21 where they use terms like "smart growth" and "sustainable development" or "sustainable living". Regionalism is a favorite of "Community Organizers" like you know who. So, why is Governor Chris Christie of New Jersy, a darling of many conservatives and a keynote speaker at this year's Republican National Convention supporting regionalism in his state? We will get to that in a moment. First, let's review what "regionalism" is all about.
I first posted on the subject of regionalism about three weeks ago. In this post, I parsed an article at National Review by Stanely Kurtz on his new book,  Spreading the Wealth: How Obama is Robbing the Suburbs to Pay for the Cities. Quoting myself from that post:
Have you ever heard of the concept of "regionalism"? I vaguely recall reading that term in some research I did a while back on Agenda 21. Mr. Kurtz explains that Obama learned to embrace regionalism from his Chicago community organizing mentors at the Gamaliel Foundation. "Regionalism" is the idea that the suburbs should be folded into the cities, merging schools, housing, transportation, and above all taxation. Kurtz says that the relationship with his community organizing mentors continues to this day.
Via Real Clear Politics,  came across another article about the Kurtz book at New Geography that is excellent and I hope you will bookmark it and read at your leisure if you want to know more about "regionalism".  This article has some very interesting and important data. Take a look at this quote and the graph that follows:
Opponents of the suburbs have long favored amalgamating local governments (such as cities, towns, villages, boroughs and townships). There are two principal justifications. One suggests "economies of scale" — the idea that larger local government jurisdictions are more efficient than smaller governments, and that, as a result, taxpayers will save. The second justification infers that a larger tax base, including former suburbs, will make additional money available to former core cities, which are routinely characterized as having insufficient revenues to pay for their services. Both rationales are without foundation.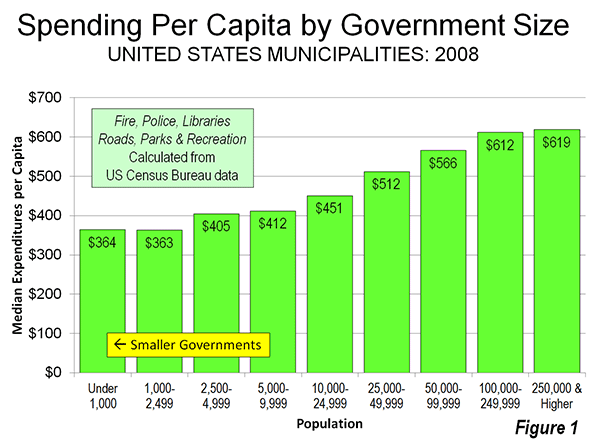 As you can see, bigger is not necessarily better and more efficient. The cities studied do not have a revenue problem. They have a spending problem. Sound familiar?
What does this regionalism have to do with Governor Chris Christie?  Fox News has he story. It seems that cash strapped Camden, New  Jersey, one of the most crime ridden and dangerous cities in the United States, is planning to do away with their police force and let the county provide that service.
In the latest example of a cash-strapped municipality taking drastic measures to deal with swollen public sector liabilities and shrinking budgets, the city plans to disband its 460-member police department and replace it with a non-union "Metro Division" of the Camden County Police. Backers of the plan say it will save millions of dollars for taxpayers while ensuring public safety, but police unions say it is simply a way to get out of collective bargaining with the men and women in blue.

[…]

The department has been under the control of the state since 2005, when a power struggle between then-Mayor Gwendolyn Faison and the department prompted Faison to ask the state to take over. That arrangement is set to expire and New Jersey Gov. Chris Christie has thrown his support behind the transition to county control, which he indicated will help keep costs down.

"A county police force that has a reasonable contract, and that's going to provide a huge increase in the number of police officers on the streets here in Camden, is a win for everybody," Christie said at a recent event at Rutgers-Camden University, where he signed a reform bill for higher education. "I'm willing to put my name on the line for this concept."
The good Governor may regret putting his name on the line for "this concept". Is Christie stupid? Has he gone over to the other side? Although I am not a big fan of Chris Christie, I don't think he is stupid nor do I think he is a liberal in disguise. My guess is that like so many of our fellow Americans, I suspect that Christie is unaware of Agenda 21, Smart Growth, Sustainable Living, and Regionalism. These concepts receive the support of Democrats and Republicans, as well as, liberals and conservatives because the projects and the ideas being pushed always sound so good. Christie and the county surounding Camden had better wake up. I predict that the people of the suburbs of Camden are going to get screwed. They will eitheer pay higher taxes to cover the cost of policing Camden, or they will do with less services in their own areas. And, I doubt that Xamden will do any better in the end.
While we are rightly focused on the coming elections and the economy and our own well being and that of the nation, other Marxist leaning folks are going about the implementation of Agenda 21 and all of its nice sounding programs. Some of us are working hard to educate the people. But, to me, it is inexcusable that someone like Chris Christie doesn't know what is happening under his own nose. This man was being pushed by many conservatives to run for the Presidency. Mit Romney considered him as a potential running mate. But, maybe I shouldn't be so hard on the Governor.  I have no reason to believe that Romney and Ryan are any more aware of the dangers of Agenda 21.
Well, that's what I'm thinking. What are your thoughts?
Original Post:  Conservatives on Fire
Aug 27
A Plea to Government Officials to Stop Their Amateur Meddling in Business
Last week at a political event I had an interesting conversation with several other Republican city officials regarding what to do with a local vacant shopping mall. These were all nice people- one owned a local business, one was a nurse, another worked for a charity- and all of them have a vote on the city board and all of them were properly concerned regarding the vacant and non-taxpaying property in the city. But, and I think this is very important, none of them were real estate investors or successful operators of shopping malls.
They were simply nice people with no knowledge of how to make that particular business work who found themselves holding a little bit of local political power. And they let that little bit of political power go straight to their heads. They told me that they had sat down with the owner of that property and told him how that property should be developed, that acting as agents for the city they had lectured him about what sorts of businesses they thought would be great to put in there (with no market research to back those up), and they proudly told me how they tried to make this private business owner (who was sitting on a bad investment) do what they wanted to do.
Government officials at every level- unless you are an expert in real estate redevelopment or unless you are a private investor who wants to use your own money to do whatever you want to do- stay out of other people's business. You are not elected to play lord and master, you are not elected to ignorantly lecture businessmen, and you are not elected to try to impose your vision on other people- you are elected to do a job and to do it right.
The only conversation that a government official should have with a property owner of a vacant shopping mall is one where the government official asks what sorts of laws, regulations, and government barriers can he/she remove to encourage the development of that property. That's it.
These Republican amateur meddlers asked me what I would do if I had been on the city board, and I told them I would do nothing, and they laughed- but the truth of the matter is that the first instinct of a government official should be 'do no harm' and this means not meddling, lecturing, or getting in the way of private businesses.
It doesn't matter if you are a Republican or if you are a Democrat- as a government official, you are a servant of the people and that thought should always be foremost in your thoughts. Do not attempt to meddle in affairs that you have almost no knowledge of, do not attempt to boss around a business without knowing its market or seeing its books, and do not try to use the little power given to you by taxpayers to impose your own views and vision on others. Freedom, liberty, equality before the law, and protection of property should guide your actions, thoughts, and decisions.
Original Post:  A Conservative Teacher
Lesbian Allegedly Stages own Hate Crime
In the great leftist tradition of staging an atrocity to gain public support, Charlie Rogers, a former women's basketball standout at the University of Nebraska, allegedly staged a hate crime to gain support for gays.  KMOX has more…
Four days before Charlie Rogers crawled naked and bleeding from her Lincoln home, screaming for help, she outlined in a Facebook posting what investigators believe was her motive for faking the July 22 attack, Police Chief Jim Peschong said at a news conference.

"So maybe I am too idealistic, but I believe way deep inside me that we can make things better for everyone. I will be a catalyst. I will do what it takes. I will. Watch me," read the July 18 posting, according to police.

Furthermore, genetic testing on evidence gathered at the crime scene undermines Rogers' account of what happened, Peschong said.

Charlie Rogers, 33, pleaded not guilty Tuesday to making a false police report and was released on her own recognizance. She didn't respond to a message seeking comment left Tuesday at a number listed as hers, but her lawyer, Brett McArthur, said she maintains the attack happened and plans to vigorously defend herself.
We've seen this before.  We saw it recently with a fake attack on a gay male.  Then, we saw it with the occupods, who used the elderly and used children as human shields.  It's a time tested tradition.  If they can't make a point with facts, they'll do it with staged atrocities.
We'll have to see how this comes out.  I doubt it'll get much more coverage if it turns out that she is guilty, but you never know.
Aug 26
And you Wondered why we were Concerned About Census Questions?
If you recall, there were a lot of questions regarding the details requested in the last census.  For example, I knew that census data was misused in the past, but I never took the time to research it sufficiently to write a post.  Bunkerville, however, has done the necessary legwork.  Here is an excerpt…
This rounding up of Japanese-American citizens was "authorized" by President Franklin D. Roosevelt who bypassed Congress and issued Executive Order 9066 on February 19, 1942. The executive order was written and carried out in total violation of the U.S. Constitution and its Bill of Rights.

http://www.archives.gov/historical-docs/todays-doc/index.html?dod-date=219

• The legal loophole that was used to justify this blatantly illegal act is as follows: Military commanders were granted the "administrative right" to declare entire states to be "exclusion zones" from which people of Japanese ancestry were excluded. The internment camps were, of course, not included in the exclusion zones, meaning that all Japanese-Americans were forced to be put into the internment camps in order to comply with the exclusive zone orders. This action, by the way, is the ultimately expression of race-based profiling.

• No one was given a trial. No charges were even filed against those who were forced into the camps. They were simply rounded up at gunpoint and shoved into railroad cars and busses.

• The U.S. government issued shameless propaganda films to spread disinfo about its illegal actions. Here's a particularly shocking example of such propaganda from 1942
And these people were located by using census data.  The government knew exactly who they were, and where to find them.  Since it is reliable to state that best predictor of future behavior is past behavior, we have to assume that the government will again use census data to track down and detain citizens.  All they need is the proper provocation.  And, we have to assume that the government will again use propaganda to justify their efforts, and that a lapdog media will tow the line.
Are you a Racist? This Video Will Educate you
As you are already probably aware, anyone who disagrees with the regressive line is automatically a racist.  Does it really matter if you don't actually harbor any racist thoughts?  Of course not! You are so racist, that you don't even know that you're a racist.  To further educate the CH 2.0 readers, here is an education video discovered by our good friend, King Shamus…
Never let it be said that we don't educate our audience!
Aug 24
Is It Too Late? Is It EnevitableThat The Debt Will Crush The World Economy?
It has been a while since I have done a post on the economy and the debt bubble that has engulfed the United States and Europe and most of the world. In part this because the subject is so depressing. It is difficult for me, as I read more and more about the debt crisis, to see any way that the US or the world, for that matter, can work its way out from under the crushing weight of the debt they have incurred.
In the United States, we tend to focus on our $16 trillion national debt, which is horrendous and growing at over a trillion dollars per year. Some argue that we need only concern ourselves with the debt that is owed to the public or $11 trillion because the rest is inner-government debt and there is no legal obligation to pay it off. But, these same people never talk about the political price of not paying them off.  Other pundits would say these two numbers are but the tip of the proverbial iceberg. Let's take a look at where the US is today.
Scott Powell, writing for the  Orange County Register, reminds us that it was just a year ago that America lost its AAA rating. He also reminds us that since that time our national debt has increased from $10 trillion to $16 trillion.  Here are a couple of excerpts from his article:
In fact, a debt-driven collapse of the U.S is closer than most Americans realize. Consider what has happened in Spain and Italy, respectively, the world's 12th- and eighth-largest economies. Just ten months ago Spain and Italy carried AA ratings, but today their debt ratings have plummeted to near-junk levels, at Baa3 and Baa2, respectively, driving their 10-year bond yields above 6 percent.

Since the deficit-to-GDP ratio of the United States is worse than that of Spain and Italy, higher funding costs for U.S. debt may come sooner than Fed Chairman Ben Bernanke forecasts. Recession or war would further blow out the deficit and accelerate debt rating downgrades. Either crisis could cause U.S. debt service costs to sharply rise and potentially trigger a downward spiral ending in a failed U.S. Treasury auction and a subsequent liquidity crisis. As happened in Greece and more recently in Spain, the U.S. could face funding shortfalls only solved by money printing, which would likely trigger unacceptable inflation.
Not very encouraging, is it? If our bond interest rate was pushed to 6%, we would be done for. Our debt service cost would climb to nearly a trillion dollars annually. There are two reasons the US isn't  in the same shape as Spain today: the dollar is the world's reserve currency and Europe is in worse shape overall making US Bonds still the only safe heaven for investors to park their money. How long will that protect us? I can't help but agree with Mr. Powell's sentiment:
Sadly, things are worse today than they were a year ago when the U.S. lost its AAA rating from S&P. The national debt has grown by nearly 11 percent while the economy has grown by only 2 percent. And over the past four years of various government spending programs, debt has grown by 60 percent while GDP has grown 7.7 percent. So much for the benefits of Keynesian stimulus. Washington's policies have left the country without shock absorbers or an effective insurance policy to counter another crisis.
Monty Pelerin, one of my favorites, writes that The Government Is Bankrupt and Will Destroy the Economy.
Most people don't understand the unsolvable problem the U.S. government has created for itself and its citizens.  Sovereign default is beyond a likelihood; it is inevitable.

When and which (possibly all) obligations are defaulted on will be determined by panicked politicians under duress.  A complete financial and economic collapse appears unavoidable.  I hope that is the worst that will occur.
I urge you read Pelerin's article; especially the part that talks about  The Glide Path, Treasury Obligations, and Unfunded Liabilities. He describes very well the iceberg mentioned earlier.
Estimates of the present value of these obligations range from $50 trillion to over $200 trillion, depending upon the actuarial assumptions made.  Gary North uses Laurence Kotlifkoff's figures and explains the calculation (my italics):

The total obligation of the federal government to voters that is not funded at the present time is now $222 trillion. This does not mean that, over the entire life of the program, the government will be short $220 trillion. It means that the present value of the unfunded liability is $220 trillion. This means that the government would have to set aside $220 trillion immediately, invest this money in non-government projects that will pay a positive rate of return, and will therefore fund the amortization of this debt. I have written about the estimate here.
And, Pelerin concludes
The claimed debt of the federal government ($16 trillion) is enough to threaten its viability and that of the U.S. economy.  The current glide path of spending and revenues ensures that debt will increase.  Explicit and implicit Treasury guarantees will require additional debt to bail out failing public and private agencies.  The situation becomes hopeless when the unfunded liabilities are taken into account.

Buckle up for a very scary ride.
As I said at the beginning, trying to understand the debt crisis waiting for us and the world is very depressing. It is highly unlikely that even a Romney-Ryan administration would do enough, fast enough, to prevent the collapse of our economy. Please come back tomorrow. I will be dusting off my tin-foil-hat and will tell you what the banksters have in mind for us.
Well, that's what I'm thinking. What are your thoughts?
President Obama Ignores Pleas to Lend 1K to Save His Sick Nephew
This is a stunning story, especially for those who think that Obama is still 'a nice guy.' He may be a good husband and father (from what we've heard), but no 'nice guy' acts this way towards his immediate family.
Via Powerlineblog from their story AN INSTANCE OF LIBERALS' PREFERENCE FOR NARRATIVE OVER REALITY:
…We learned in a remarkable news story, a couple of days ago, that Barack Obama has an actual brother, not a figurative one, who is living in poverty in Africa. His name is George Obama. Barack has met his brother George, but has no ongoing contact with him. George Obama is in trouble: he has a young son who is sick and has been hospitalized, and George, a poor man, has no way to pay the hospital bill.

You would naturally assume that George Obama would reach out to his brother Barack for help. After all, Barack is a multimillionaire; not only that, he is the most powerful man in the world and has often spoken of the importance of being one's brother's keeper. So surely Barack would be happy to "keep" his real brother by paying his son's–Barack's nephew's–hospital bill, right?

Wrong. What a silly idea! George Obama exists in the world of reality, not narrative. He is a real brother, not a fictitious "brother" who exists only as an excuse to raise someone else's taxes. George apparently knew better than to call on his real brother, the President of the United States, in a time of need. So where did he turn? To Dinesh D'Souza.

George met D'Souza when Dinesh was in Africa, working on his blockbuster movie 2016, which is harshly critical of Barack Obama. D'Souza interviewed George Obama, and they spent a day together (here is the story)….

…This is, I think, one of the more stunning stories I have ever read, and if Barack Obama were a Republican, it would dominate the news. George Obama turned to a political opponent of his brother the President for help, because his brother Barack is useful only in the world of narrative, not in the world of reality. If you actually need a thousand bucks, and now, don't go to a liberal: "brotherhood" goes only so far. Even in Africa, it apparently is understood that if you need real help in the real world, you should go to a conservative…
This is certainly a major news story and John is right- the fact that President Obama goes around the nation living it up on taxpayer money while hording his own personal income without helping out his family is a wrong.
Contrast this with Mitt Romney, who a couple years ago personally loaned money to a couple to buy a house even though they didn't qualify for any loans under any government program. Or the story about how Mitt's family in Michigan are some of his strongest supporters. Or any of the dozens of other stories about how when times are tough, Mitt doesn't just appear to be a nice guy- he really is and really helps people out.
It is important that we know that Obama is not a nice guy- he is a power-seeking radical fascist from Chicago who voters took a gamble on in 2012. It was a bad gamble and in a couple months our nation will have an opportunity to correct the mistake. Mitt Romney is a nice guy, he has a long and well-known track record, and he has done a lot of good things in government. He won't be the best President ever and I am sure he has some negatives and there is probably a policy or two you don't like of his, but 4 to 8 years from now, you'll be glad you voted for him instead of for Obama.
Original Post:  A Conservative Teacher
Aug 22
Why Obama and the Democrats are going to lose the Medicare debate…
Nancy Pelosi once said of Obamacare that we had to pass it so we can find out what's in it.  Well one of the big stink bombs that the Democrats don't want to talk about is the massive cuts they made to Medicare when they passed Obamacare.  These cuts were designed to keep Obamacare deficit neutral and was a key provision that helped both the House and Senate pass the the bill in March 2010.  In fact in the below video President Obama stated that he would veto the bill if there was any attempt to undo the cuts to Medicare. Check it out.
http://www.youtube.com/watch?v=t5Ha7RNpn24&feature=player_embedded
So how have the Democrats received a free pass for so long in regards to the massive cuts they made to Medicare when they passed Obamacare?  How were they able to shape the narrative when Paul Ryan came out with a budget that would repeal these cuts and keep Medicare solvent for people 55 years and older, changing nothing in the coverage they are receiving?  How did they get away with videos showing a Paul Ryan look alike pushing grandma off the cliff when they had already pushed grandma off the cliff a year earlier?  There are four reasons for this.  The first is Republic leadership under House Speaker John Boehner has been weak and indecisive.  They did a terrible job getting their message out and when the Democratic narrative began to gain traction with seniors Boehner did what he always does; cuts and runs.  The second reason the Democrats have been able to keep a lid on their cuts to Medicare is because the MSM has turned a blind eye to it.  They have either underreported the facts on this subject or have ignored it in its entirety.  If you ignore an act or action, then you don't have to acknowledge it happened.  The third reason is because the average voter is mostly uninformed in regards to the issues and like I've said many times before the Democrats rely on this ignorance to advance their agenda.  And finally the last reason is because we haven't had a debate about Medicare on a national stage until now.  If you have a national debate about a topic and compare and contrast two plans side by side, then Americans with all the information can make an informed decision in regards to it.  This is a destination the left doesn't want to reach.
They need Americans lost and in the dark.  They need us ignorant so they can pass bills in order for us to find out what's in them.  They need us dazed and confused so they can drive the narrative.  They don't believe in empowering the individual, they rely of the ignorance of the masses.  The last thing the Democrats wanted was a young, articulate, individual running around proposing common sense solutions to address the problems with Medicare while at the same time pointing out the shortfalls of the Democrats.  Now the Democrats and Obama are trying to defend an action that is indefensible and they're losing.  This is why they're trying to switch the debate back to Romney's taxes.  You see once Americans get the information more often than not they make the right decision and this scares the crap out of the left.  Since Paul Ryan has taken Medicare debate on the road the left has been in complete disarray.  To give you an idea how rattled they are take a look at the below video clip.  It's about 12 minutes long but worth the watch.
http://www.youtube.com/watch?v=K3TGW_oowiY&feature=player_embedded
The most revealing part of this video comes at the two minute mark when Howard Dean stated, "You can't convince people that a Dem is going to cut Medicare."  This should convince you just how much the left relies on the ignorance of the average voter.  Even when they cut Medicare by $700 billion, they believe you won't believe they actually did it because hey they're Democrats.  It's absolutely insulting.  But this is why we do the things we do and why we need to help Mr. Romney and Mr. Ryan get the word out about this.  The more people learn about the Romney/Ryan plan for Medicare the more people will not only see the need to fix, but I believe they will embrace the Ryan plan because it makes sense  And once people come to terms with the fact that the Democrats have already gutted it, I see bad times for any candidate with a "D" in front of their name.  And finally Charles Krauthammer drives the point home about the cuts the Democrats made to Medicare in the below clip.
http://www.youtube.com/watch?v=ZRqY0AkrLig&feature=player_embedded
We're now having a national discussion about Medicare and it's a good thing.  And because we're finally having this debate I believe Obama and the Democrats are going to lose it.  Why?  Because the most dangerous threat to the status quo is an informed voter and this debate is definitely informing the voter.
Liberty forever, freedom for all!
Original Post: The Sentry Journal
This Regulation Nation Will Explode Under An Obama Second Term
Americans are learning more about the "fiscal cliff" approaching at the beginning of next year, when tax rates for families and small businesses are set to spike and new taxes in President Obama's health-care spending law take effect. But unless there's real change in Washington, we're also headed for a steep "regulatory cliff" that could compound the damage.
The above quote is a warning from Ron Portman in an opinion piece he wrote for the Wall Street Journal this past Thursday. This article is worth a read because he talks about a number of stifiling regulations that the Obama administration has put on the back burner until after the elections. You know _ when Obama will have more flexibility.
After three years of bureaucratic excess, the Obama administration has been quietly postponing several multibillion-dollar regulations until after the November election. Those delayed rules, together with more than 130 unfinished mandates under the 2010 Dodd-Frank financial law, could significantly increase the regulatory drag on our economy in 2013.
According to Senator Portman, the Labor Department has put off until after the elections plans for something called the Fiduciary Rule. A study by the Oliver Wyman Group found that this rule would seriously hurt middle-class people with  IRA accounts.
A study last year by the Oliver Wyman Group found that the Fiduciary Rule could result in higher retirement account minimums and cause 7.2 million individual retirement account (IRA) holders to lose access to investment advice. Even the Labor Department was unable to show that the rule's illusory benefits outweigh its substantial costs.
The Senator goes on to tell us about the EPA and its planned Ozone Rule. He says it is "so strict that up to 85% of U.S. counties monitored by the EPA would be in violation." The EPA itself estimates this rule will cost industry 90 billion dollars.  The EPA Portman tells us is also planning more controls on power plants that they estimate will cost one dollar every three cents in benefits. How insane is that?
And, not to be out done, the Transportation Department has plans to make cars more expensive.
Consumers can also look forward to a new Department of Transportation rule that will increase the costs of new cars and trucks by mandating expensive new technology. First proposed in 2010, the Rear-View Camera Rule would require that all cars and trucks be equipped with a rear-view camera and video display on the dashboard, at a cost of some $2.7 billion to auto makers and car buyers.
On top of all of this, we know that a tonne of new regulations yet to come from Obama's Affordable Care Act and also from the results of the Dodd-Frank legislation. The insanity of the Obama administration can not be underestimated. Our economic growth, for the last two quarters has been barely positive. It won't take much to send America back into recession just like the Euro Zone is today. The Obama administration seems hell-bent on putting the final nail in our economic coffin.
I share this information with you, dear readers,not because I think you need any more reason to want Obama out of office. I share this information on thee off chance that some may need more reason to set aside what ever occupies your time on the days leading up to the elections and I ask that you volunteer your time to your local Republican Party and/or your local Tea Party to help turn out the vote on election day.
I read an article other day that I unfortunately did not bookmark. But, the author made a compelling case that this election, contrary to the expert¡s opinions, will be decided more by the base of the parties than it will by the so-called independent voters. The point made by the author was that the party that can energize its base in the toss-up states to turn out the vote, will win.
Well, that's what I'm thinking. What are your thoughts?
Original Post:  Conservatives on Fire
Occupy, Unions and Communism: Oh my!
We've been seeing, more and more, the not so subtle relationship between labor unions and communism.  Mike Golash, the former president of the Amalgamated Transit Union local 689,  spilled the beans and once again pointed out the communism/union connection.  Gateway Pundit has the video…
It's like they aren't even trying to hide it anymore. Â Fortunately, that helps us identify what is happening. Â And, of course, it gives us bloggers more to write about!